How We Create Your Personalised Portraits
Would you like a beautiful portrait of yourself or a loved one hanging in your home? We can do just that for you. All you need to do is find your favourite photo of that person and send it in to us. Don't worry if the quality isn't great, or there are marks on the photo. We can work with that. Don't worry if there are other people in the photo either, or the background isn't something that you like. We can change that too. So long as the quality is good enough for our artist to work with, that should be good enough for us, and let us know what changes you would like us to make so that your portrait is perfect!
Please see some examples below of how our artists painted beautiful personalised portraits from our customers photos:
James wanted to create a personalised canvas painting of his brother.
His brother had sadly passed the previous year, so James wanted a special portrait commissioning in order to celebrate his life. He sent in a number of photos and wanted to combine them into one painting. Allan loved Glencoe, so wanted that mountain as the backdrop, he loved the sky and stars from another photo that he had found online so wanted that incorporating into the portrait. He had a photo of Allan dancing a highland jig and wanted him doing so across the bridge at the foot of Glencoe. Finally, James wanted the words, 'The Brightest Star' writing at the foot of the painting to show what his brother meant to him.
Bethany wanted to create some unique personalised art for her boyfriend.
Both Bethany and her boyfriend were quite political and so she wanted a unique gift for him on his birthday. Rather than a standard portrait of either one of them she decided on a fun gift, and one that is truly unique. A portrait of President Trump inciting the mob who then stormed the Capitol. We found a photo of Trump and our designer and artist worked together to come up with design which they thought captured the essense of what Bethany wanted: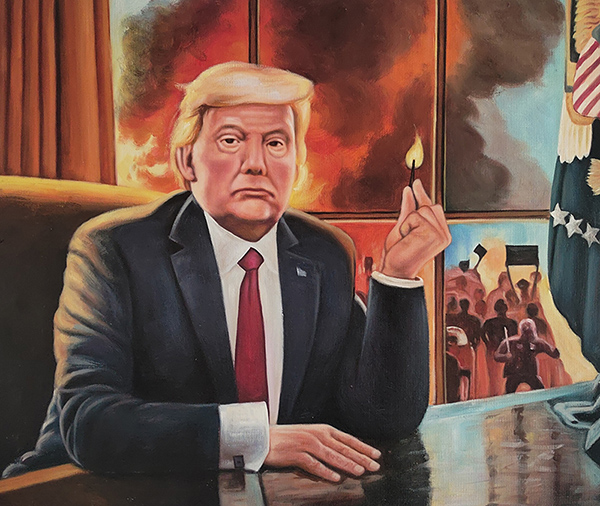 Sarah wanted a very personal portrait of her beautiful daughter
Sarah and her husband had lost their beautiful daughter aged just 17 the previous year and she wanted an oil painting depicting her on the beach when she was much younger. She sent in her husband's favourite photo of her, as well as requesting that she be painted on a beach and that her favourite colour was purple. Our designer came up with the concept which Sarah loved, and our artist brought it to life and made for a uniquely personal and very emotional painting for Sarah to give to her husband for Christmas:
Make your own personlised art from a photo by adding some text
Grenville had just come back from holiday with his 3 friends and wanted some fabulous wall art to remember it by. The problem was, the photo he took wasn't very good; the group wasn't centered, there were people in the background and it was the first day of their holiday so they weren't very brown. He asked if we could fix it, so we did. We:
cropped and centred the group,
removed the people from the background,
gave each of them a healthy tan,
removed the bag and T-shirt from the picture,
made the beach a lovely golden brown,
made the sea a rich, deep sea blue,
add the text 'Daytona Beach 2017'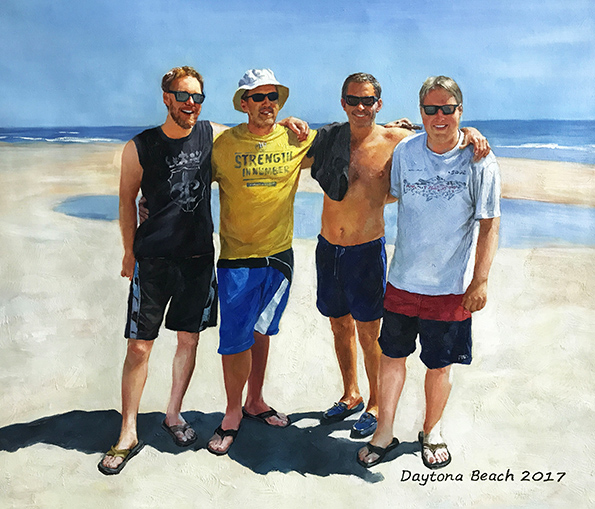 Personalise a black and white photo by adding colour.
You may have an old black and white photo of someone that you want to make very special by asking us to add colour to it. If you tell us what colour everything should be, our designer will come up with a mock-up showing you how your painting will look, (just the composition and the colours not the style) and then our artist will paint it. Bring an old photo to life, add some colour and turn it into a beautiful personalised wall art!
Interested in seeing more of our work? Take a look here at some more of our Custom paintings from your photos.